issue five : a feast for gluttony
Post Updated: January 2020
The new year has gotten off the ground and already seems to be running away with me. As part of my ongoing life resolutions, finding a balance between my functioning-multitasking-state and my need to recharge is something that is paramount for the balancing act of life.
Modern life is an ironic place. We are bombarded with information, images and objects on a daily basis that are meant simplify our lives, but do they?
We have become a nation of thoughtless rushers, intent on doing before thinking, and hoping what we do magically works out. If it doesn't, we rush to do something else, something also not well thought-out, and then hope for more magic.

Len Holman
The truth is more 'stuff' only means more chaos. More images only mean self-doubt and more information can lead to mental exhaustion. It takes an act of defiance to avoid the continuous onslaught of modern life. So in the interest of finding a balance between our addictions (consuming of information, imagery and stuff) and a sense of a gluttonous time to achieve a little calm in the chaos, here are my five suggestions:
Note: They are a bit London-centric, as that is where I am based.
Way back in 2011, an eight-week study by Harvard-affiliated researchers at Massachusetts General Hospital concluded that meditation creates more than just a state of calm, but actually creates physiological changes to our brains and bodies and overall quality of life.
Although the practice of meditation is associated with a sense of peacefulness and physical relaxation, practitioners have long claimed that meditation also provides cognitive and psychological benefits that persist throughout the day. This study demonstrates that changes in brain structure may underlie some of these reported improvements and that people are not just feeling better because they are spending time relaxing.

Sara Lazar – Senior study author and member of MGH Psychiatric Neuroimaging Research Program and a Harvard Medical School Instructor in Psychology
Contrary to popular belief though, meditation doesn't need to be this super spiritual, yogic past time. You can meditate anytime, anywhere and in many ways.
1. save water, take a sound bath
Ever had a sound bath? I hadn't either – until recently that is. The lovely Jasmine Hemsley invited me along to one of her sessions that she runs with Toni Dicks. They go under the name Sound Sebastien. It's 90-minutes of unapologetic, self-indulgent, gluttonous 'me-time'. The tones produced by Crystal Singing Bowls and tuning forks are heard by the ear and felt in the body, with certain tones affecting your energy centres (chakras) for balancing and meditation.
In fact, it transcends time. It's a somewhat out-of-body-experience, and ideal for those of you that think you are unable to meditate on your own (like me). All you need to do is lie back, close your eyes and listen.
They offer private sessions, which is a combination of sound and complementary healing practices. Each session is completely bespoke and priced from £180 for 60 minutes.
Contact hello@soundsebastien.com for bookings.
2. Book a meeting with your facialist. Pronto!
Yup, you heard me. It's time to start treating yourself as a business. In this day and age, we are our own brand after all. As any good #girlboss knows, meetings with powerful people are paramount to building a successful business. Your face is, after all your "brand" store-front, so ensure that you take care of it, properly – with the help of 'specialist consultants'. Who says you can't book a meeting in with your facialist mid-week? You can often find great deals and discounts on mid-week facials. (And if you're super switched on in the business department, you may even be able to write it off as a tax incentive!)
If you're based in and around Greater London, treat yourself to a restorative and relaxing Wabi-Sabi Facelift Massage by one of Untainted Beauté's expert facialists.
Untainted Beauté – our very own sister company – is a mobile beauty and holistic wellness service that brings a range of conscious, green and cruelty-free treatments to your home or office. What could be better than a restorative Lift & Glow facial treatment without even having to get into your car? Now that's what we call a productive day at work.
It's a super simple online booking system: Choose the treatment, the date and time, add your info and hey presto! All you need to do is lie back and relax, uhm, I mean, have a very important meeting – with yourself. Click here to book an appointment.
Another option, if you're already out and about, is a trip to London's premier untainted beauty and wellbeing store, Content Beauty & Wellbeing in Marylebone. They offer a range of facials from Dr Alkaitis, Pai Skincare and Tata Harper Facials.
Stress is one of the major factors affecting our skin, so this is a double whammy way to treat your skin so that you can put your best face forward. You will be in great hands, with knowledgable, passionate staff who will be able to advise you on so much more than just what product to buy. It's also my personal favourite London beauty destination to try and test makeup. Book your appointment here.
3. Call the masseuse!
Ahhh… massage, my favourite word. In any language.
Much like our essential household accessories – such as toilets, showers and boilers – that make modern life a better place to live than our great grandparents might have experienced, they need a little routine maintenance to stay working effectively and efficiently. So do our bodies. Daily life leaves our bodies contorted and achy and stressed. So just as you would call on your local tradesman to come round the house and check all is in working order, unblock a few pipes or fix a leaky faucet, the clever folk over at Urban Massage have created a service that allows you to book your next massage the same way. From £49 for 60 minutes – that's cheaper than a plumber.
Click here for more on the benefits of massage if you're struggling with yourself about being deserving of one.
They too have a simple, no-fuss online booking system so you'll be good to go in no time at all. Also available in Birmingham, Manchester, Paris and Vienna.
4. Listen to someone else's story.
I don't know about you, but my own story can get a little boring sometimes. It's so easy to get caught up in the drama of life. I find that watching someone else's story (a.k.a a film) takes me out of my head for an hour or two, particularly when I am feeling too lazy to read or need an excuse to leave the house. Times when I need to laugh, or cry or be inspired, a film is my go-to meditation.
Let's face it, going to a movie solo isn't exactly the worst idea in the world. It's not like you talk can through the film anyway. You can watch anything you want without considering someone else's taste, and you don't need to share the popcorn. Go on, I dare you.
There's always Netflix if you can't bring yourself to go at it alone.
Here is Time Out's List of Best London Cinemas
5. A coffee and good ol' dose of People Watching.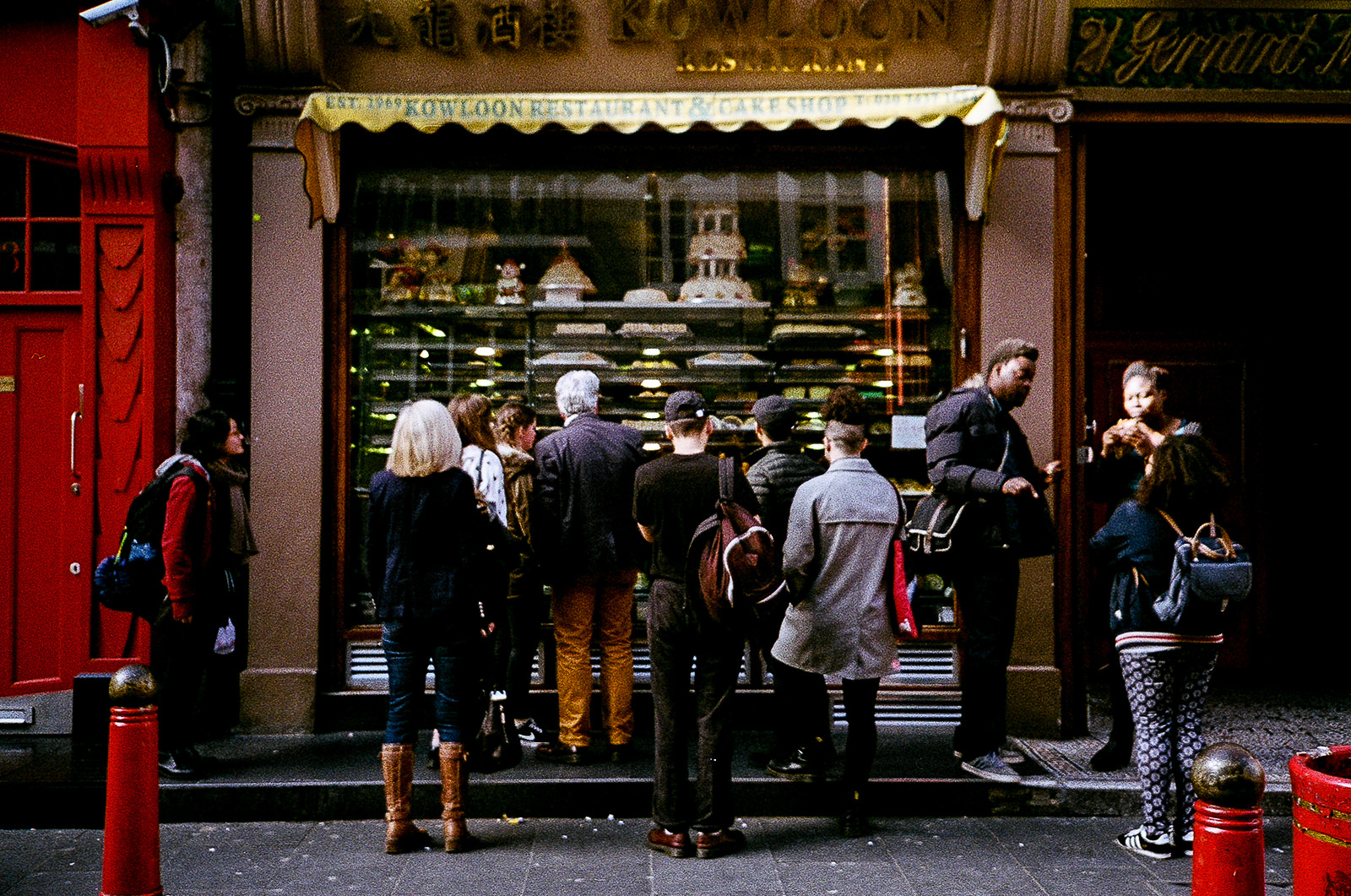 I've always loved people watching. Since I started loving coffee (at around 19) a cup of coffee and a dose of people watching has become one of my favourite pastimes. If you don't love coffee, no harm in substituting it for tea, hot chocolate or even a delicious glass of wine. People-watching without a beverage, however, leaves you open to just looking a bit like a creepy weirdo, but a beverage in hand and you're good to go! A bit like staring at your phone while "waiting for a friend" in a crowded bar, I suppose.
Observing 'real life' people (not those retouched and morphed into some weird version of themselves that we have come to believe is normal) is the the best way to remind ourselves that we are exactly as we are meant to be. Sure, there are people who are prettier, richer, smarter and more successful than us but, there are also people less pretty, more in debt, heavier and have a lower IQ.
That's the thing about real life, no one is "perfect," we are all striving to be more, to do more. A little dose of reality every now and then – with a good cup of coffee of course – doesn't do any harm to one's self esteem and won't break the bank.
What are your favourite ways to find calm?