issue six : the shape of things to come
Do you feel overwhelmed with all the different trending ingredients to look out for in your beauty products? It can be a minefield trying to figure out the most beneficial products for your skin and how their combined ingredients can combat your skin concerns. With the internet being a rather large vacuum of information – much of which is often not based on fact – it's important to turn to the experts when making decision that can affect our health and wellness.
Luckily, the leading skincare experts at Zo Skin Health have debunked some of the top skincare ingredient buzzwords so you know exactly what to adopt into your skincare routine. Plus, we share our favourite untainted alternatives…
Retinol:
A widely used term within the skincare industry, Retinol based products can help improve the look of fine lines and wrinkles whilst also smoothing the surface area of the skin. You should apply a retinoid once a day, most preferably in the evening as skin will be sensitive to sunlight afterwards – use after cleansing and before applying your moisturiser.
Vitamin C:
Vitamin C is most commonly taken orally; however, the ingredient also has varying benefits when applied directly to the skin. Vitamin C provides a range of benefits including evening out your skin tone, protecting your skin against pollution, improving hydration and keeping an overall youthful appearance.
UNTAINTED Alternative: Evolve Organic Beauty Miracle Facial Oil
It contains natural retinol from organic rosehip oil and antioxidants from organic Argan Oil to to nourish & regenerate mature & dry.
UNTAINTED Alternative: Juice Beauty Stem Cellular CC Cream
A 12-in-1 multitasker blending Vitamin C and Fruit Stem Cells infused into a resveratrol-rich grapeseed to reduce the appearance of wrinkles. Protects with zinc oxide mineral SPF 30.
Collagen:
Collagen is a naturally occurring protein found in your body. It's an essential component, providing structural support for your organs, skin, tendons, muscles, cartilage and bones. The skin loses collagen over time, so it is an imperative ingredient to add into your skincare routine, it can be found in many day and night creams as well as face masks.
HYALURONIC ACID:
The Hyaluronic Acid solution is able to work deep into the skin's layers to improve and benefit hydration and elasticity. Hyaluronic Acid is commonly used for its ability to combat the signs of ageing and eliminate skin imperfections.
UNTAINTED Alternative: PRTTY Peaushun Skin Tight Lotion
It's not just our faces that benefit from collagen. We love this Skin Tight Body Lotion from Prtty Peashun. It contains a blend botanical extracts are handcrafted from plants, as well as Allantoin, naturally which promotes collagen, elastin and protein production in the body.
UNTAINTED Alternative: Hyaluroil Lip Treatment
This 100% natural oil delivers the ultimate remedy for dehydrated lips and is the best lip treatment on the market! A handmade blend of regenerating oils, infused with encapsulated hyaluronic acid, leaving the lips plumped, elastic and hydrated.
Jojoba Oil:
Jojoba oil has some very powerful antioxidants which help in regenerating the skin cells, leading to a more youthful and glowing complexion. Jojoba oil is not only good for the face, but can also be used over the body instead in replacement of your normal moisturiser. Perhaps apply a few drops right after a bath or shower, while skin is still wet.
Antioxidants:
Antioxidants are an essential ingredient when it comes to anti-ageing and keeping your skin looking youthful and healthy. Antioxidants help target the elements responsible for signs of ageing, but can also calm skin and help revitalise dull-looking skin. Antioxidants can be found in many beauty products on the market today such as moisturisers and serums. 
UNTAINTED Alternative: Naissance Organic Jojoba Oil
Pure, unadulterated jojoba oil, ideal for face, body and hair.
UNTAINTED Alternative: Absolution Le Serum Anti-Soif
Lightweight serum with potent moisture protectors and antioxidants to keep skin happy and healthy.
Coenzyme Q10 (CoQ10):
Collagen is highly important because it keeps your skin firm, while elastin gives your skin flexibility, when collagen is lost, this causes the skin to wrinkle and sag. CoQ10 helps the skin by acting as a strong antioxidant- It helps to banish those free radicals that promote premature ageing. Most people get enough CoQ10 from foods such as kidney, whole grains and oily fish – however it can also be bought as a supplement over the counter.
Niacinamide:
Niacinamide, also known as vitamin B3 and nicotinic acid, is a very effective ingredient that offers multiple benefits for ageing skin such as improving the appearance of un-even skin tone, large pores, wrinkles and dullness. Niacinamide can be applied on the face of an AM and PM, just a couple of drops patted over the skin after cleansing and before moisturising.
UNTAINTED Alternative: BYBI Beauty Babe Balm
This multi-purpose balm contains super-firming Coenzyme Q10 as its hero ingredient, along with a nourishing combination of Squalane, Hibiscus and Calendula.
Untainted Alternative: Laidbare Butter Me Up
This deliciously rich body butter is filled with vitamins, including the key vit B3, aka niacinamide.
Salicylic acid:
This Beta Hydroxy Acid (BHA) removes dead skin cells from the skin, both on the surface of your skin and deep within your pores, providing a deep exfoliation targeting the more clogged areas of the skin. Skin problems such as Pimples, blackheads and oiliness are all caused by excess oil and dead skin cells, the Salicylic acid works in ridding the cause, which means you're less likely to suffer with blackheads and spots. Salicylic acid is best applied in the PM, using only a small amount as it is a very strong solution.
Alpha hydroxy acids (AHAs):
Alpha hydroxy acids, or AHAs as they are more commonly known, are natural acids which come from acidic fruits such as lemons and oranges. These acids reduce the look of wrinkles and can prevent future wrinkles whilst also making skin much smoother. For the best results, dab a few drops of the solution onto the skin of an evening.
UNTAINTED Alternative : S5 Skincare Restore Cream
The S5 Skincare Restore Cream is an advanced anti-ageing moisturiser for normal-dry skin with age-defying desert & marine bioactives to reduce the appearance of wrinkles, hydrate, protect and firm containing salicylic acid.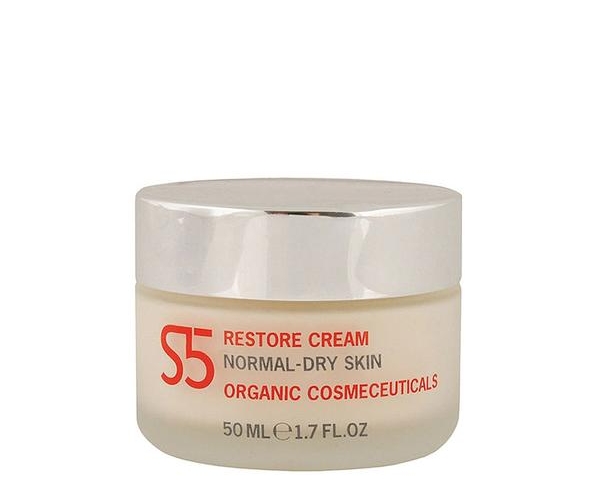 UNTAINTED Alternative: Trilogy Active enzyme cleansing cream
This cleanser gives you brighter complexion with active fruit enzymes, jojoba esters, vitamin E. This velvety cleanser gently removes all make-up, exfoliates and brightens your complexion. Skin feels smoother, renewed and refined, and perfectly prepared for maximum serum and moisturiser absorption.
---
Disclaimer: This article does contain some affiliate links