issue seven : folklore & fairytale
Have you heard that toxic ingredients are lurking in your bathroom shelves and makeup bag, or seen pretty, shiny new organic beauty brands being splashed across the pages of your favourite glossies (or virtual pages) and wondered whether they could be the right choice for you? Whether your afraid or simply curious, if these things matter to you, it's time start to digging a little deeper to find out more about them, right?
But finding this stuff out online can be long, laborious and just down right confusing. Never mind just trying to figure out what colour might suit you, but figuring out what the right untainted alternative for you to switch too can be overwhelming task, that can also be hard on the pocket.
Here, at UNTAINTED, we believe in sustainable beauty. That means, we believe in finding the brands and products that not only produce their products in a socially and environmentally sound manner, but also, serve a purpose in your life. If a product doesn't serve it's objective for you and your needs, then it will just land up gather dust on your bathroom shelf and be a waste of resources. Our philosophy is that, by understanding WHY you are wanting to make the switch to untainted alternatives, you will make better choices for you and your loved ones, and will be able to maintain this long-term. It's not as simple as just using organic beauty because you heard that there are toxins in your cosmetics, or that organic beauty is now in vogue (literally).
There is just SO. MUCH. INFORMATION out there. A lot of it wrong or unsubstantiated. Scaremongering is rife, which is something I don't personally believe is a sustainable way to make the switch to untainted alternatives. The bloggersphere is dangerous for swatching references and product suitability. In short, it's a circus out there.
Believe me when I say, I know how overwhelming making the switch to cleaner, safer and effective products can be. I did it. It took me a long time to make sense of it all.
If I am honest, thinking back to where my journey started, it was scary to find out about the chemicals in my personal and professional products. I have no doubt I used scaremongering to warn my friends to make the "switch". Six or so years later, I am better equipped, a lot less afraid and far more informed about these things.
Ultimately, once you know WHY you are wanting to switch to untainted alternatives, it becomes a much easier journey.
I often get asked about how I found my way through this maze, so I have decided to share with you the books and websites that I have found the most helpful (along with thoughts on each).
Read on you crazy diamonds!
---
for the drama lovers
No more dirty looks : The Truth About Your Beauty Products and the Ultimate Guide to Safe and Clean Cosmetics by siobhan o'conner & Alexandra Spunt
This was the first book I picked up on my journey into Green Beauty Land. It was well-written – even funny at times – but it was the scary parts that kept me gripped to every page…
This book is a good starting point, but don't let it become your bible, just yet. Think of it as "training wheels" for your journey.
There are definitely some scaremongering tactics employed at the start but it evens out a little. I am sure I recited some of the facts I found in this book to warn my friends and family about why they should get rid of everything they owned and ONLY use clean cosmetics.
It was originally published in 2010 and I have not seen an updated edition, meaning that some of the information may well have changed. It is also very American-centric, and their bias (their WHY) are the health implications of our cosmetics and personal care products.
For the Sci-Fi fans
Think Dirty APP
O'Conner and Spunt have gone on to develop the very successful Think Dirty App – which, admittedly, has some useful features. You can now find most of the products you search for using their barcode scanner – although products not readily available in the USA are often times not available. They do however, have a feature for you to request them be added to the list and a notification system once they have been.
The App provides you with a rate from 0 – 10. 0 being sugar and spice and all things nice and 10 being off the chart, scary monster bad. They also offer suggestions on untainted alternatives, which is very useful (again, mostly if you are based in the US as a lot of "clean" brands are not available in Europe because the US and the EU have rather different opinions on which ingredients should be approached with caution).
Personally, I take the results with a healthy pinch of salt. Namely because the word "fragrance" in the ingredients list will kick almost any product up to the Dirties score, even if the fragrance is a combination of natural, organically sourced essential oils. In short, it does not differentiate fragrances made from naturally sourced fragrant ingredients. So if you have no allergies or sensitivities to essential oils (in fairness, there are people that do) then you might overlook an untainted alternative that might be perfectly suited to you.
For the self-helpers
The Nature of Beauty : Organic skincare, Botanical Beauty Rituals and Clean Cosmetics by Imelda Burke
Imelda Burke is the women behind the Europe's first clean beauty mecca (the first curated store of clean beauty): Content Beauty & Wellbeing in London, and let me tell you, she know's her stuff.
The book is brimming with insider knowledge about all sorts of interesting facts about beauty. It's gentler in its approach to 'scary stories' and she provides solutions to skin problems by skin type and offers expert advise on makeup brands by health or ethics concern.
It even has some pretty pictures to remind you that clean beauty isn't all about understanding the ingredients list.
This book is thoughtfully written and is a must for anyone who is curious about cleaning up their beauty act.
For the fact checkers
A Consumer's Dictionary of Cosmetic Ingredients by Ruth Winter, MS
I love this book. It is always an arms reach away when I am researching ingredients. It provides you with a complete and unbiased description of pretty much every cosmetic ingredient out there.
You really can judge this book by its cover. It says what it does on the tin, and really, that is what we are looking for in our beauty products at the end of the day.
So, if you are anything like me, and like to be able to make your own decisions based on scientific facts, this is an invaluable resource. Layout in a dictionary format.
*I also use EWG's Skin Deep Cosmetics Database when I am on the go. It provides every chemical (natural or synthetic) with a safety rating based on available data. The information provided is very scientific and can be a little confusing, but the easy 1, 2, 3 colour-coded systems is rudimentary enough to understand.
For the D.I.Y-ers
online reading
Clean Clean Beauty Co a.k.a Clean Beauty Insiders is a brilliant and well-researched blog by London-based Elsie and Dominika. They started their clean beauty journey by blogging about DIY beauty and went on to write a book and launch their very own untainted skincare brand, Bybi Beauty.
In short, they really know their stuff and offer engaging articles across the beauty-sphere.
These ladies are definitely worth a follow if you like getting your recommendations from real clean beauty insiders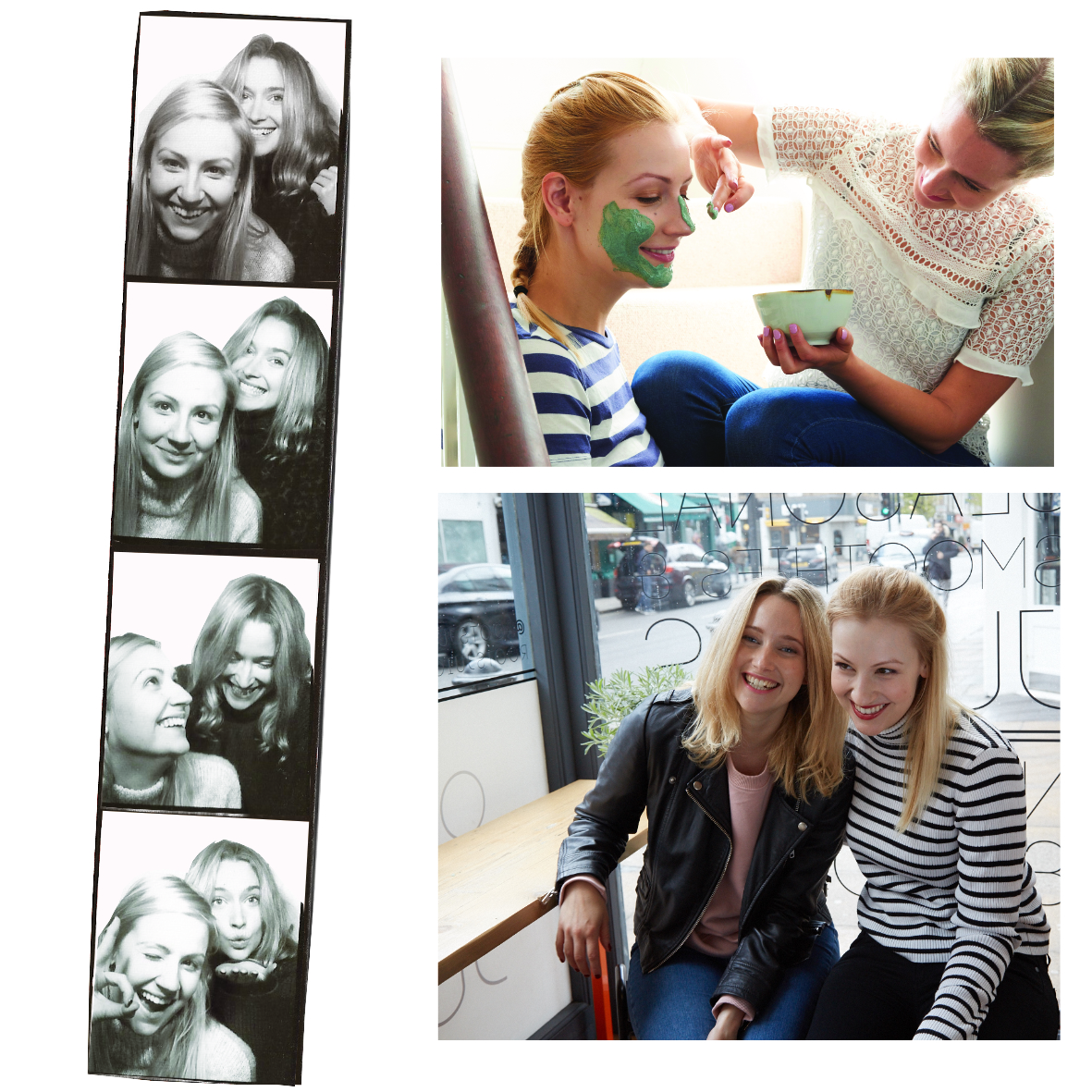 For the Nature Lovers
Why People Need Plants Edited by Carlton Wood & Nicolette Habgood
This is not a beauty book by any stretch of the imagination, but rather a book about plants and their relationship to people.
A fascinating read into the many weird and wonderful properties of plants and how they benefit our everyday lives. They are after all, key ingredients in many of our favourite beauty products!
A great book to read with your children so you can learn together. I don't have children, but I have a curious mind, and this book satisfied it tremendously.
I regularly reach for this book when researching for articles, artworks and talks.
For the cynics
Branded beauty : How marketing change the way we look by mark tungate
While this book doesn't actually focus on switching to untainted alternatives at all, it is a fascinating read about how marketing has changed the way be look…as the sub title suggests.
The words and imagery we see wrapped around our beauty products or splashed across our Instagram feeds, in flagship stores or concession stands and even… in across the glossy pages of magazines, are no accident. They are considered and calculated and designed to make you spend money. Often times on products you really don't need.
A fascinating read. It certainly has its place on any beauty aficionado's bedside table.
For the fashion forward
amazingy magazine: The natural & organic beauty experts
Amazingy is a wonderful virtual portal for untainted alternatives, and better yet, the have one of the few bricks and mortar stores with knowledgable, helpful staff. They also have a fantastic online magazine filled with interesting articles, beauty tips and tricks, interviews and more, that supports their virtual and physical offerings.
The part I am most excited by is their Skin & Health Concerns section, which allows you to discover articles and products to facilitate you and your needs.