issue nine : here comes the night
I don't know about you, but as the days get warmer and the nights get shorter…my lips get drier. I put it down to the heat…or the unrequited air conditioning. To be fair, the same can be said for the reversing of the seasons too. At this time, of course, I blame it on the cold…or the heating. The truth is, I just don't drink enough water and I get dehydrated easily when temperatures fluctuate. Leaving my lips dry and chapped and begging for some TLC. I find taking care of the situation before searching for slumber, makes a big difference to the lip 'sitch the next morning.
Warm, balmy nights – like we are experiencing at the moment here in the UK – bring the urge to engage with colour on my face once again. The desire to wear colour on my face is heightened by the promise of summers mercury rise. The brighter, the better! The thing about wearing bright lipstick is that your lips need to be devoid of dry, flaky skin.
Enter Ilia Beauty's clever little lip exfoliator; (aptly named) Balmy Nights. A naturally perfect fit for our current theme, "Here Comes the Night." Tiny granules of volcanic stone are encased in organic Jojoba and Shea Butter balm. Neatly and practically presented in an aluminium lipstick bullet casing. A simple back and forward swipe (a little goes a long way) across the lips warms the butter and waxes and unveils the exfoliating granules. A few passes between your lips (as if you were working in your favourite lipstick), melts the nourishing balm and lets the particles scrub away the scaly skin to reveal softer, smoother lips. For very dry lips, a little help from your handy hand appendage (a.k.a your finger) will help remove those more stubborn scales. Then, simply wipe away with your reusable cotton pad or washable tissue.
Your lips are now primed for bright, bold colours that fill your heart with joy. Go forth and conquer the night.
While this product is convenient for single-person use, because of it being in bullet form – in a professional capacity, it is not suitable for the general kit. It is, however, a great addition to any actors bag and easy to provide relief throughout the day should your actor require it (without having to dip into the often, inconvenient sugar scrub alternatives).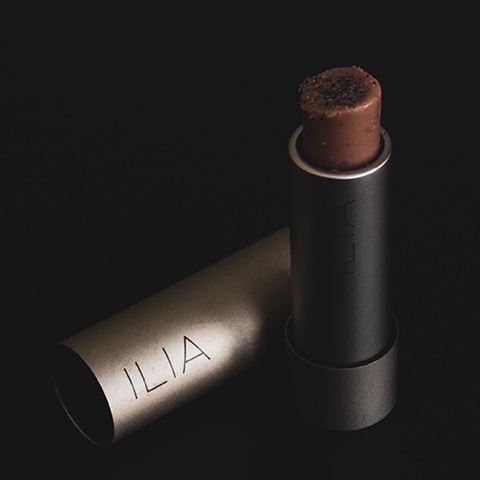 ---
Tips
Follow close with Ilia Beauty's Balmy Days Lip Conditioner (or lip balm of your choice) to seal in the softness.
To recycle the casing once the product is finished, be sure to remove the plastic mechanism inside the bullet.
Ingredients
Helianthus Annuus (Sunflower) Seed Oil*, Sesamum Indicum (Sesame) Seed Oil*, Volcanic Stone Powder, Jojoba Seed Meal*, Ricinus Communis (Castor) Seed Oil*, Hydrogenated Vegetable Oil, Beeswax (Cera Alba)*, Euphorbia Cerifera (Candelilla) Wax, Butyrospermum Parkii (Shea Butter) Fruit*, Titanium Dioxide, Tocopherol, Sodium Benzoate, Potassium Sorbate.
*certified Organic Ingredients. Ingrédients Certifiés Biologiques.
100% Natural – 82% Organic
Remember to buy responsibly. Shop for your favourite beauty products as locally as possible and only purchase more product as and when you really need it!
PLACES TO PURCHASE
In the UK
In Australia