Photography
Patrick Sporleder
Makeup & Nails
Phiphi Liang
Model
Helen Harley @ Maggie Inc.
issue five : A feast for Gluttony
Makeup:Mastered Alumni, Phiphi Liang, included everyday store cupboard essentials in this exclusive untainted beauty editorial.
How quickly nature falls into revolt when gold becomes her object.

William Shakespeare
Featured Products
*Blush and eyeshadow powders were made by mixing Wilton Color Right food colouring with cornstarch.
*Nail decor is edible cake sprinkles.
---
UNTAINTED X MASTERED BRIEF
The brief set for the Mastered alumni was to create a beauty editorial of 4 – 6 images around the theme of: "A Feast for Gluttony" and create the looks using only edible ingredients/products.
They were asked to use what was already in their kits and kitchens in order to step outside of their comfort zone & experiment with makeup unconventionally.
The objective was not to buy more stuff, but use up what we already have and begin to think differently about the ingredients in our beauty products.
READ ABOUT MUA, PHIPHI LIANG'S APPROACH TO THE BRIEF, AS WELL AS THE CHALLENGES SHE FACED.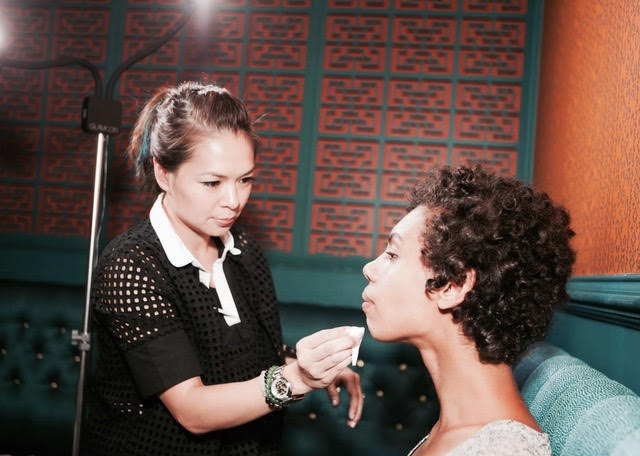 Phiphi is a freelance makeup artist who has key fashion shows in Boston and assisted for New York Fashion Week. A graduate of Mastered: Makeup. She was awarded 2017 Boston Fashion Awards Makeup Artist of the Year and 2014 Raw Boston Makeup Artist of the Year. Phiphi divides her time between Boston, New York, and Los Angeles. Her website can be viewed at www.phiphimakeup.com
When Patrick researched the word gluttony, a certain food chain would show up. So we wanted to show the overindulgence of unhealthy foods with the balance of eco-friendly "healthy" products.
The challenging thing I found from the brief was to find certified organic makeup. I found out that natural/vegan did not necessarily mean organic. I felt like I was racking my brain for ideas and talking to Patrick he told me that some foods like beets can stain the skin but I wanted a variety color, not just the berry color that beets give off.
I was driving in my car and the idea of using food coloring came to me. Originally, I was going to run food coloring through my airbrush machine but realized the night before the planned shoot that food coloring can stain the model's skin and she will probably not be too happy with that idea. So I decided to do some research and realize that I can mix food coloring with cornstarch to create powders.