issue ten : the icons & iconoclasts
By Khandiz Joni
Earlier this month, Weleda launched its first-ever global campaign 'You Are Nature'. Which, considering they have been iconoclasts in the natural and organic beauty space for nearly a century, is quite something.
Last week, I was invited to attend an intimate gathering of the who's who in the beauty and wellness industry as one of the founding members Conscious Beauty Union. We were all there to learn more the revolutionary work of this iconic brand, meet their new Facial Skincare Expert, Elizabeth King and trial their latest product launches.
One of the things I really appreciated hearing was from Jayn Sterland, Weleda UK MD, was that the beauty industry needs to stop innovating for innovation's sake. As those who read UNTAINTED regularly will know, I am all for the less is more approach to the beauty industry as a whole.
I don't usually write about these events, but Weleda is a brand I have intended to write about for some time. This issue felt like the perfect opportunity to really share the true renegade spirit of this pioneering company. Not to mention, the synchronicity in our current messaging with my latest initiative The I AM IMPACT Project.
Iconoclastic Leadership
Weleda was founded in 1921 by the Austrian philosopher and natural scientist, Rudolf Steiner, Dutch doctor Ita Wegman and Oskar Schmiedel, a chemist and pharmacist from Munich in Germany. Their iconoclastic approach to wellbeing stemmed from an ideology based on the interconnectivity of science, the natural world and spirituality. Steiner coined the term Anthroposophy, meaning "the wisdom of man." And if it wasn't for the story of how Weleda got its name – from a woman, a High Priestess of healing, no less – we might have taken offence to that gendered explanation of its meaning.
Weleda is still governed by this ethos today. Their commitment to driving real change in the beauty industry is evident through their numerous operations, initiatives and engagement with the varied principles of sustainability.
Which include (but are not limited to):
Biodynamically growing many of their ingredients on their 13 acres of land in Derbyshire.
Working with women-only initiatives around the world to source fairly traded ingredients that cannot be grown locally.
Partnering with TerraCycle to set up a recycling program to ensure their package can be disposed of correctly.

Iconic Products
When I came up with the theme for this issue, I really spent time thinking about what an iconic product looked like. After consultation with friends and colleagues in the beauty space, we whittled it down to a few contributing factors.
Efficacy – naturally, we need the products to work as intended.
Desirability – we need to enjoy the products, so we are encouraged to not waste them.
Functionality – products that are designed well.
Price – cost is a significant factor, to me, an iconic product should be readily available and at a price point that is affordable to the average person.
Integrity – brands that stand for something, be that is how they are made, the ingredients used or the community they serve.
Mainstream – products, that despite their wholesome ingredients, bridge the gap into the mainstream beauty market. I like to call these #btw products.
As you can tell, Weleda products undoubtedly warrant that iconic status – and that's before we've considered that some of Weleda's mainstay products have been in circulation for near on a century!
Original Aknedoron Cleansing & Purifying Lotions
Loved by problematic skin, everywhere! These are two of the oldest skincare products in the Weleda range. The cleanser was introduced in 1923 and has been made in the UK since the 1940s. They continue to be 'homegrown' and are still being manufactured at Weleda's Derbyshire headquarters today.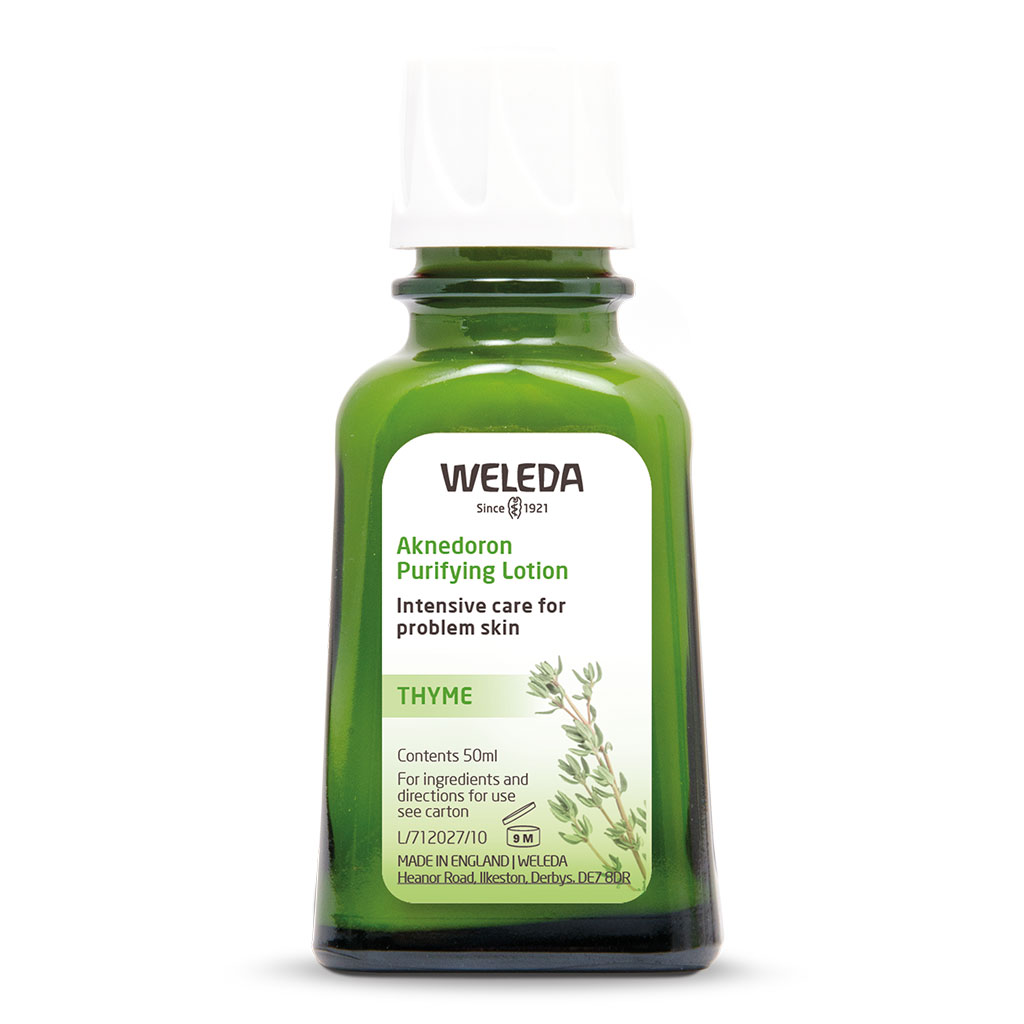 Skin Food
This multi-use cult product should be compulsory in every makeup artists kit and every person's handbag/moonbag/gym bag/bum bag/briefcase. I can assure you it's a staple in mine!
Inclusive Approach
Inclusive beauty is something very close to my heart. What I mean by that is, products that are suitable for the biggest cross-section of people as possible. Of course, not all products can possibly be right for everyone, but consideration into the language and messaging that doesn't discriminate on age, race or gender are paramount.
The Weleda philosophy to skincare is as distinctive as the brand itself. They refrain talking about skin types, and instead prioritise the skins needs at the various (st)ages of our lives… naturally, in line with natures own rhythms of 7-year cycles. Each range is highlighted by their "Key Plant Philosophy." All of which have been specially selected for their unique properties to support the skin during a specific time in our lives, and expertly combined with other beneficial ingredients that support not only our skin but our wellbeing too. This is what holistic beauty looks like.
And in case you were wondering, this is not a paid-for post – I am just truly in awe of this inspiring and innovative brand that I beleive it deserves such a lengthy piece.